I think you can tell by now I'm going to be participating in a lot of reading challenges in 2012. I just signed up for another one:
The A-Z 2012 Reading Challenge: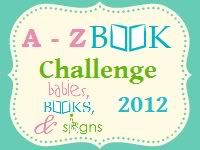 You can sign up for this challenge
HERE
.
The rules are simple: read a book that starts with each letter of the book.
You can list the books you are going to read in advance or just add them as you read them.
Books read for this challenge:
A -
A Million Suns (Across the Universe 02) - Beth Revis
B -
Bittersweet - Sarah Ockler
C- Clockwork Prince - Cassandra Clare
D - Dangerous Love (Fitzgerald Family 04) - E.B. Walters
E -
Existence - Abbi Glines
F -
Fated - Sarah Alderson
G -Game for Anything - Bella Andre
H - Her Sexiest Mistake - Jill Shalvis
I -
Incarnate - Jodi Meadows
K -
Kiss Me Crazy (The Fitzgerald Family 03) - E.B. Walters
L -
Lucky In Love (Lucky Harbor 04) - Jill Shalvis
M-
Mine Until Dawn (The Fitzgeral Family 02) - E.B. Walters
N -
Never Eighteen - Megan Bostic
O
- Obsidian - Jennifer L. Armentrout
P -

Poughkeepsie - Debra Anastasia
S -
Shade - Jeri Smith-Ready
T -
Try Not To Breathe - Jennifer Hubbard
U -
Unraveling Isobel - Eileen Cook
W -
Wishing For Someday Soon - Tiffany King